Accutech Engraving, Awards & Gifts
(864) 292-9992
3500 Wade Hampton Blvd.
Taylors SC 29687
Monday through Friday
9:00AM to 6:00PM
Find us on Google and Facebook
Personalized Gifts - Embroidery - Promotional Items - Signs / Banners - Industrial Tags - Business Cards - Screen Printed T-shirts
We have been dealing with Accutech Engraving & Awards for many years. They have always been on time, on schedule and on budget. What a pleasure!
Took my son's computer in to get his name and number engraved on it and the power cord converter. Great job! Done quickly (1 day) and looked great and will not be able to be removed easily. Will use them for future projects like this.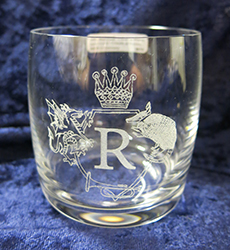 I will definitely be coming back here! I came in to have a very detailed family crest engraved into some whiskey glasses. I brought in a picture of the crest and they were able to replicate the crest as well as make a few alterations that I wanted. The glasses turned out perfect and I couldn't be happier!
I've been using AccuTech's services for many years because I could always count on a quality product that was completed on time, at a reasonable price. But in the last few years I've discovered they not only have high quality but are uniquely creative. In fact I have found them to be the only ones who will undertake some of my projects. An example of this was the creation of a stela I had seen in Iximche, Guatemala. With appropriate modifications I wanted it to become a special anniversary gift that would bind our wedding date (11 Muluk) to the Tzolk'in calendar engraved on the stela. Mayans believed that would result in the celebration of our anniversary date throughout eternity. I thought that was a really cool idea. But only AccuTech was able to make it happen. Thank you AccuTech!
​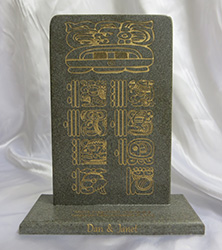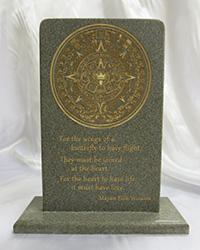 This place is amazing! I got some engraving done on some bridesmaids gifts and it turned out even better than I expected. Everything was done on time, decently priced, and the customer service was excellent! I would most Def recommend them. them again!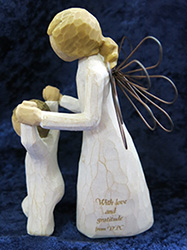 I highly recommend this business! I had three Willow Tree figurines I needed engraved for some college graduates. Several other places said they couldn't do it. Accutech asked me to bring the item in, looked at them, and said they could do it. A few days later they were done and look AMAZING! They were exactly what I envisioned, the price was reasonable, and they were very professional to work with. I highly recommend them and will definitely use them again!
I had a diamond ring I needed to engrave. I went to a jewelry store and they couldn't do it. They recommended Accutech. They really did a good job and engraved exactly what I wanted. It's really hard to find a shop in town which will do diamond ring engraving. I love them and will recommend them to all my friends.
They were fast, affordable, and polite. I made my order and they had it ready the same day. I will be using them for all of my future engraving needs.
© Copyright all images and content to Accutech Engraving & Awards 2019. All rights reserved.